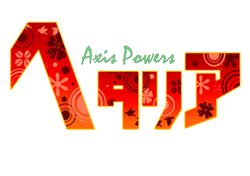 Hetalia:  Axis Powers is a Japanese web comic, later adapted as a manga and animated series by Hidekaz Himaruya. The animated series was made by Studio Deen and ran from March 26th 2010, until March 11th 2011. An animated film, Hetalia: Axis Powers - Paint It White! was also released on June 5th 2010 by the same studio.
The anime doesn't have much of a plot. The series' main presentation is as an often over-the-top allegory of political and historic events as well as more general cultural comparisons. Characters are personifications of countries, regions such as Hong Kong, and micro nations such as the Principality of Sea land. It mostly centers around WWII and the Allies.
Each of the countries' quirks is based on what the country is famous for.
Switzerland and Lichtenstein are depicted as brother and sister, with Switzerland being extremely protective of her.
Estonia's character design was based on Himaruya's own looks.